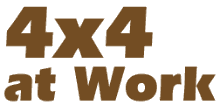 These courses build pride in your performance and create a standard of competence for all those who handle 4x4s in a work situation.

More than ever, regular maintenance is crucial to the working vehicle and we make sure that drivers know exactly what is needed. A well looked after machine will perform better, for longer and safely ensures that you get the most from your investment.

Driver Training

Vehicle and driver specific, this course is designed for individuals and organisations using 4x4s as part of their business, meeting the needs of the professional driver by making the best use of the vehicle both on and off-road. The investment can only be effective if the operator is aware of correct driving techniques, proper handling and loading which contribute to safety and help to keep maintenance costs low. Correct choice of tyres reduces impact on the environment, avoiding damage to the countryside. Other topics covered can include winching techniques, recovery etc all tailored to individual needs.

First Stage
This covers preparation of the vehicle including visual checks, jacking, safety, general driving techniques including diff locks, gearbox etc. All off-road techniques are explained with detailed coverage of different ground types, wet crossings and fording.

Second Stage
This stage is carefully structured to suit the professional client with their own specific needs, vehicle use and vehicle type dictating the content. You get the course that you need.
Organisations such as the Police, mountain rescue teams, The Countryside Commission, Scottish Power and The SEPA, The British Geological Society, Historic Monuments Scotland and The National Museums of Scotland rely on him for driver training.

All Terrain Vehicles
Quad-bike driver training is also available, tailored to your individual requirements.